ValleySingOut! 2014 Productions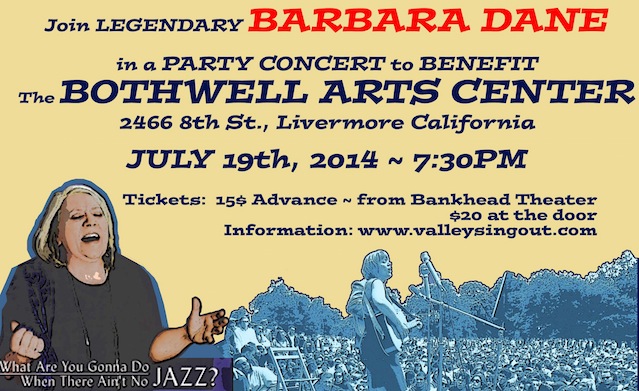 Barbara Dane's remarkable blues, jazz and folk music career spans more than 60 years. In 1946, she shared a folk concert stage in Detroit with Pete Seeger. She released her first album in 1957. By 1959, she was singing jazz with Louis Armstrong and touring with great trombonist Jack Teagarden. She performed folk and blues regularly at the Gate of Horn in Chicago with backup musicians such as Memphis Slim, Willie Dixon, and Little Brother Montgomery. She recorded jazz with Earl "Fatha" Hines and blues with Lightnin' Hopkins.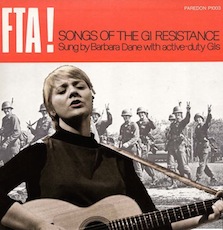 Ms. Dane sang before tens of thousands on Washington Mall in protest of the Vietnam War. She was the first white woman to be profiled in "Ebony" magazine, and the first US performer to tour post-revolutionary Cuba. In San Francisco, she opened "Sugar Hill", the first Bay Area mainstream blues club, bringing in Mama Yancey, Tampa Red, Lonnie Johnson, Brownie McGhee & Sonny Terry, Jimmy Rushing, and Mose Allison.

Join us with Barbara Dane in a historic House Rent Jazz Party at the Bothwell Arts Center on July 19th.

Tickets available at www.livermoreperformingarts.org.


ACOUSTIC MUSIC Concert at ArtWalk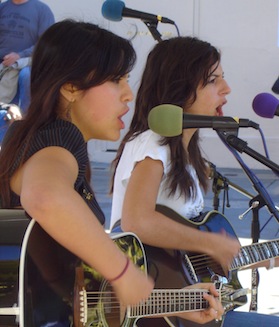 A full-day of acoustic performances by talented Bay Area musicians happens at the 13th Annual ArtWalk in Livermore.

This is a volunteer event in which the musicians, sound technicians, and organizers have donated their time, talent, and equipment to provide a musical gift to the community.
Go
HERE
for information about Valley SingOut at ArtWalk Livermore.
ChristmasTime in Livermore, December 18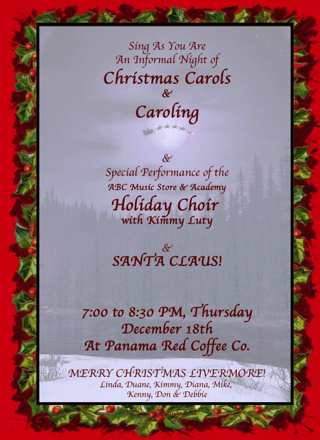 This is a very special Holiday evening in Livermore. My friends bring Christmas decorations, lights, sound, guitars, and Christmas lyrics to the downtown family room, Panama Red Coffee House.

Panama has the Coffee & Hot Chocolate.

The highlight is a performance of carols by the children of the ABC Holiday Choir led by the lovely, talented Kimmy Luty, and an appearance by Santa Claus!

Every walk-in is a "Party Member"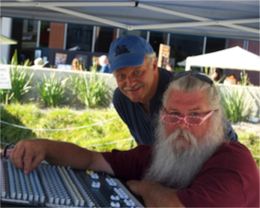 Valley SingOut! is a project for organizing music events in Livermore California. The events are based on the ideas, talent, and generosity of my friends.



Past Performers
:
Gabriel Duffin
,
The Mundaze
,
Megan Slankard
,
Amanda West
, Steve Suppe,
Ira Leitner
,
Gary Walker
,
Jeff Reed
,
Roger Kardinal
,
Michael McNevin
, Brian Loud,
Alder Creek
, Michael Ferrucci, Kenny Williams,
Paul Manousos
,
2Endeavor
,
Fender Cronin
, Midlife Chrysler, Dave MacMillan, Keene Butterfield,
Extended Roots
, Skylar Fuxsion,
Charlie Murphy
(R.I.P. Charlie. Thank you!),
The Time Tellers
,
Nolan Ford
, Pog Mo Thoin,
Amber McDonald
,
Emma Blankenship
,
Tank Half Full
,
CrawDad Republic
,
James Nagel Band


The lovely singer in the website art is the talented
Megan Slankard
from a painting titled "
Megan
" by Linda Ryan. Megan has performed at several ArtWalk events.